English Elocution in China
Spoken Mandarin and spoken English are polysyllabic languages, unlike Classical Chinese and our imagined Song Dynasty English, which employ complex monosyllabic language patterns. How can characters indicate the stressed and unstressed vowels of spoken English? 
普通话和英语都是多音节语言,这和古汉语和以及我们设想中的"宋代英语"这些复杂的单音节模式并不相同。那么怎样用汉字来表达英语中的重读和非重读元音呢?
Stressed vowels are longer than unstressed vowels, so Chinese characters used to indicate longer vowel sounds are doubled while unstressed vowels are represented by a single character.
重读元音的发音比非重读元音的音值要长,因此,使用一个汉字表示非重读元音,使用两个汉字来表示重读元音。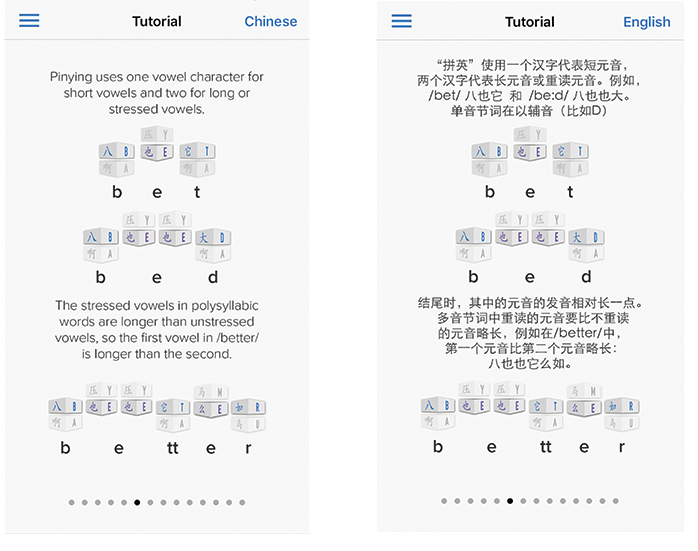 Screenshots from Pinying mobile app.
就维多利亚式英语来讲,发音只是其特点的一个方面。诗歌朗诵同时需要准确的发音和手势。那么晚清时期的人们是怎样来教授这些内容的呢?
Pronunciation was only one aspect of performing conformity in Victorian English. Poetry recitation required precise pronunciation and gestures. How could these have been taught in the late Qing Dynasty? 
维多利亚时代的英帝国知识体系要求身体动作的严格统一,英国殖民者使用当时的新发明例如西洋镜这样的动画技术,通过建立语音与身体动作而非纸面内容的联系来推广标准英语的学习。
Since the Victorian Imperial Knowledge Systems required conformity to be performed by the body, agents of English Colonialism could have employed the newly invented technologies of animation, like the zoetrope, to disseminate learning materials linking pronunciation to the body rather than the page. 
 At the turn of the twentieth century, the rime table tradition collapsed along with the Imperial Examination System. The opportunity to create a stable phonetic bridge between Chinese characters and English was lost. Chinese merchants trading with the English gave rise to the current systems used to roughly approximate non-Chinese word sounds. This system has caused the innumerable problems faced by the nearly half a billion foreign language learners in China today. 
在二十世纪初,随着科举制度的废除,韵表也随之凋零,从而也丧失在英语和汉字之间建立语音纽带的可能的基础。而与英国人进行贸易的中国商人创造的近似汉字记音法开始出现。但这一方法给今天中国接近五亿的外语学习者们造成了无法估量的困难。
Pinying, a system patented in 2016 has converted the rime table tradition into a stable phonetic bridge between English and Chinese. 
在2016年被授予专利的拼英,利用音韵表在汉语和英语之间建立起一条稳定的语音纽带。