Navigating the Poetics of Invention
The most formidable challenge to thinking comparatively about innovation lies in the effort of becoming familiar with distant ways of producing and organizing knowledge. Therefore, this exhibit is designed to reflect the idea that using a system such as the Traditional Chinese Imperial Knowledge System as a model for thinking in different ways is one of the key engines of creativity. 
对创新的对比性思考最大的挑战莫过于对知识的创造与组织体系之间差异性的了解。因此,此次展览试图使用中国科举知识体系这一模型来展示多样性的思维是如何成为创新引擎的关键。
For well over 2,000 years the traditional Chinese Imperial Knowledge System explained the universe as a dynamic space of constant transformation and flux. Ancient knowledge systems provided later dynasty rulers, thinkers, and artists with powerful symbolic tools to help them more productively navigate these transformations.
2000多年来,中国科举知识体系将宇宙解释为不断演变的动态空间。这种知识系统给后来的王朝的统治者、思想家和艺术家提供了有力的符号工具来更为有效地探索这些演化。
One of the most important of these concepts describes the world in terms of two interdependent forces: yin and yang. The yang force (light, bright, projective) and the yin force (heavy, dark, fluid) give rise to one another: without light we cannot have heavy, without the bright there can be no dark.  
其中最重要的概念是将世界描述成两种相互依存的力量:阴和阳。阳指轻、明、稳定;阴指重、暗、变化。阴和阳相互依存,此消彼长:无轻则无重,无明则无暗。
To symbolically represent this greater degree of complexity, the yin and yang forces are organized into the eight trigrams, or gua. A trigram is a symbol made up of three lines. Because each trigram includes three lines, not two, either yin or yang will always dominate. 
为了能够用符号来表达其概念的复杂度,阴和阳被重组为八条三线形即八卦。一卦就是一个由三条线来构成的符号。由于每一卦象总是包含三条而不是两条线,因此或阴或阳总有一方占优。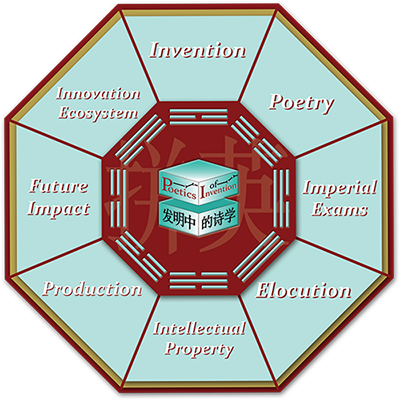 Each of these eight rooms within the exhibit connect to the eight trigrams with corresponding yin and yang symbols reflecting the pattern of change and transformation.