Chinese characters are not alphabetic as each character stands for a full syllable. How can one use characters to transcribe the sound of unknown words?
汉字并非表音系统,而每个汉字都有其相对应的完整音节,那么如何才能用表意的汉字来标注读音呢?
Likely beginning in the fifth century, Chinese scholars invented a system known as fanqie 反切 or "reverse cut spelling," which works by way of taking the consonant of one character and combining it with the vowel of another. By combining two characters, scholars could organize the entire Chinese language by consonant and vowel sounds. Professor Stalling took the technology built to map the Chinese sound system and applied it to mapping the English sound system.   
大约在公元五世纪初,中国的学者们发明了一套称为"反切"的系统。其原理就是取某个汉字的声母,与另一汉字的韵母相结合。通过合并两个汉字的声韵母,学者们可以展示出所有汉字的发音。史道林教授正是用这种方法将汉语的发音系统与英语发音系统对应起来。
取决于不同的口音和方言,同一个汉字会有不同的发音,甚至在诸如韩语、越南语、日语此类语言中,这些相同的汉字也会有不同的发音。然而科举考试需要考察受试者将不同的平仄及音律组织成标准模式的能力。那么,既然汉字在不同的地域发音是不同的,诗人们是怎样写出押韵的诗词呢?
Chinese characters can be pronounced in many different ways depending on accent and dialect. They can even be pronounced in other languages like Korean, Vietnamese, and Japanese. Yet the Imperial Examination System needed to test a subject's ability to organize the different tones and rhymes/rimes into standardized patterns. How can poets write formal rhyming poetry if words are pronounced differently in different regions?
汉语音韵表把南北方言和口音整合成一个标准发音集合。与今天不同,音系学(对语音系统的研究)并不是用来指导口语发音的,而是一种创作诗歌中需遵循的统一押韵规范。
The Chinese rime tables synthesized northern and southern dialects and accents into a single synthetic set of standard pronunciations. Yet unlike today, phonology (the study of a language's sound system) was not meant to be applied to pronunciation, but instead was used only abstractly, to compose poetry following the same set of guidelines for all.
Until the invention of the rime tables, few would have been able to hear tones, let alone compose poetry that regulated a steady oscillation between different tonal categories.
在音韵表问世之前,人们很难分辨声调,更不用说利用平仄来创作诗歌。
The rime tables organized Chinese in a horizontal and vertical grid. Horizontally, sounds were divided into different consonant categories based on where and how they were pronounced ("lip sounds, teeth sounds, throat sounds" etc). Vertically, sounds were divided into their different vowel+finals and tone categories. Taken together,  these classifications were called "rimes."
韵表把汉语划分成一个横平竖直的网格。横向,通过发音的位置和方式汉字发音被划分为不同的声母类别("唇音、齿音、喉音"等等)。纵向,发音被划分为不同的韵母和词尾以及声调类别。这些分类被统称为"韵"。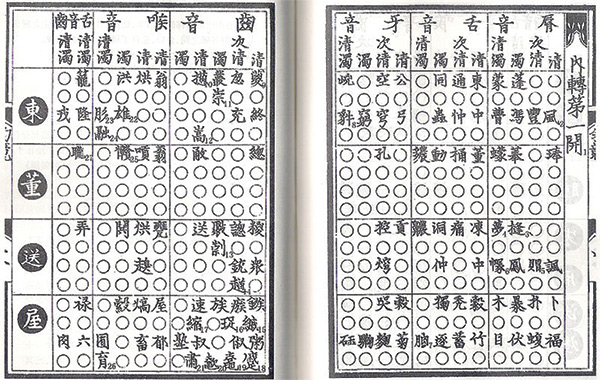 Yunjing, 韵镜,  Mirror of Rhymes, Song Dynasty rime table.  The oldest existing example of a Chinese rime table.